Corte Virgiliana di Pietole
Via Virgiliana, 13, Pietole, Virgilio, MN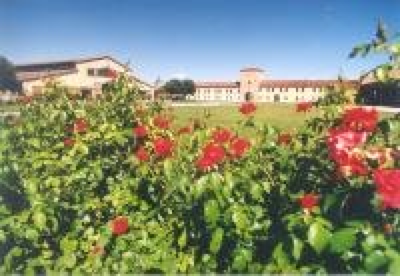 A pochissimi chilometri da Mantova, la Corte Virgiliana, ampio e articolato complesso architettonico ancora oggi sede di un'importante azienda agricola, rappresenta uno straordinario esempio di corte rurale gonzaghesca.
La Corte è situata al centro di una vasta tenuta di circa 1000 ettari, ottenuta bonificando il terreno paludoso del fiume Mincio. La leggenda vuole che in questi luoghi sia nato il poeta Virgilio. La corte è un'imponente struttura chiusa, articolata in vari corpi di fabbrica attorno a due vasti cortili comunicanti, difesa da torri passanti e da muri di cinta. Era servita da strade e da un porticciolo sul fiume Mincio dove attraccavano direttamente le imbarcazioni.
La Corte Virgiliana appartenne ai Gonzaga fino alla loro estinzione: nei suoi vasti prati pascolavano i cavalli tanto amati dai signori di Mantova, che ne erano appassionati allevatori. Al duca Guglielmo è attribuita la costruzione delle grandi stalle; l'intero complesso venne arricchito invece da «superbissime fabriche» dal duca Ferdinando, che amava soggiornare con la sua corte in quella che era una delle dimore suburbane più famose.
Del complesso originale restano oggi gli ampi cortili, le meravigliose stalle ed un fabbricato «cospicuo e solenne», adibito ad abitazione e rappresentanza, attribuito all'architetto Antonio Maria Viani, risalente alla prima metà del Seicento.
Oggi è sede di un agriturismo.
The Virgiliana Court, which distances only few kilometres from Mantova, is a wide and articulated architectural complex, which represents an extraordinary example of a rural court of the Gonzaga period. Nowadays it is the centre of an important agricultural company. The court is located at the centre of a vast estate, 1000 hectares, obtained by draining some of the land from the river Mincio. It is said that the poet Virgilio was born here.
Corte Virgiliana used to be an enclosed structure articulated in different bodies with two connected courts, protected by two main towers and surrounding walls; it was connected by a road and surrounded by an embankment, where boat could approach.
Corte Virgiliana belonged to the Gonzaga until their disappearance; in the vast grassland pastured horses, so beloved by the Nobles of Mantova, who were passionate breeders. Duke Guglielmo build the major stables while the whole complex was enriched with superb buildings by Duke Ferdinando who used to stay over with all his courtiers.
From the original complex, what is left are the vast courts, the extraordinary stables and also a solemn building used to host official meetings and sometimes also for accommodation, probably built by the architect Antonio Maria Viani in the 17th century.
Nowadays an agritourism is based there.
Sito della Corte Virgiliana di Pietole
http://www.cortevirgiliana.it